Have some graphics made for your forum? Post 'em here!
If you have graphics that can be used by everybody (i.e. empty userbars, ranks...), please do so in Graphics -> Graphics proposals.
Note: this is here just temporarily. When I will be in the mood to add a forum in Graphics, this topic won't be here any more.

Here are some my graphics:

- it was made for my forum, already a dead forum.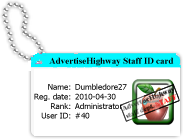 - it's my "Staff ID card".
- JUST WATCH!
When I make more, I'll post here.
(I don't do graphics for me that much, more for show off

)

_________________

Dumbledore27
A subforum has been added in Graphics.

> Garbaged

_________________

Dumbledore27

---
Permissions in this forum:
You
cannot
reply to topics in this forum